Progressive Access Scheme
125cc Motorcycle Test Preparation
At 17 (or over) you can take your full A1 motorcycle test on a 125cc motorcycle. No more L-Plates, you can use motorways and carry passengers. To ride larger motorcycles however you will need to be 19 years of age or older. See our Direct Access Test (A and A2) page for more information on Direct Access training and licence restrictions page for a summary of the licence ages and rules.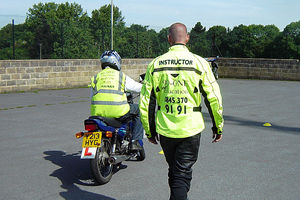 Like all motorcycle tests, you will need a valide CBT (DL196) and passed your DVSA motorcycle theory test.
(You can even practise on-line click here) Then 125cc test preparation is what you need to get you ready for the Module 1 and Module 2 practical tests using either your own A1 125cc motorcycle or one of our fleet. If you are using your own A1 125cc motorcycle for the 125cc test, please ensure you arrive at the test centre in suitable clothing, including boots, with a valid CBT certificate, theory test certificate and your driving licence. (For the module 2 test, you will also need the module one pass certificate)

Click here for the DVSA approved list of 125cc motorcycle for A1 motorcycle test.

You can also hire a motorcycle and borrow suitable clothing including boots from 90-ONE education for practice and the 125cc category A1 test days themselves if you don't have your own machine.
Using 90-One for your 125cc Category A1 test preparation tuition ensures you know, and can perform the manoeuvres for Module 1, using the required techniques.

We also check and correct your road riding to ensure itís up to a satisfactory standard for Module 2.
Please note licence restrictions changed on the 19th January 2013 which may affect you if you are wanting to ride a larger motorcycle.
90-ONE Education Test Preparation gives you the best chance of passing your motorcycle test. 125cc test preparation courses are run from our Northampton, Coventry & Milton Keynestraining sites.

Prices/Enquire about 125cc test preparation

To book your theory or practical test directly through the Driver & Vehicle Standards Agency, click the link on the right
NOTE:- When you pass your motorcycle test on your 125cc machine, don't forget to tell your insurance company as your premiums should go down, and they may even owe you some money.