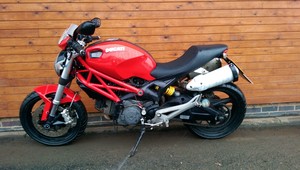 Ultra low Ducati 696 730mm
LOW SEAT motorcycle lessons
DAS (Direct Access Scheme)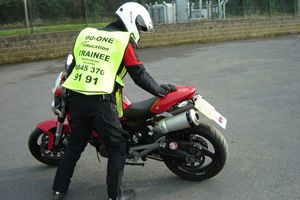 Manual handling of large motorcycle
Unique to 90-ONE Education, we now have a modified and lowered super light weight Ducati Monster 696 for Direct access motorcycle training. Ideal for shorter and lighter motorcycle riders.
By combining the super light weight of the Ducati 696 (Category A) motorcycle with unique lowering modification,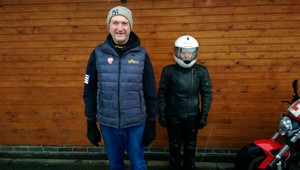 Shorter riders love this bike
we now have the ideal motorcycle for smaller riders to train and pass their motorcycle test on. The combination of being able to easily reach the ground, and using probably the lightest weight motorcycle in it's class, 90-ONE Education can accommodate riders who may struggle to obtain a motorcycle licence on mainstream motorcycles offered by other motorcycle training schools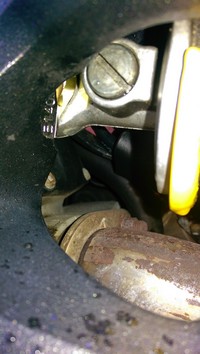 Rear suspension lowering kit
Weight
Because the 696 comes in at a featherweight
163 kilos
(dry), it makes it easier to handle for both the module 1 manual handling and manoeuvring exercises, as well as giving extra confidence on the roads.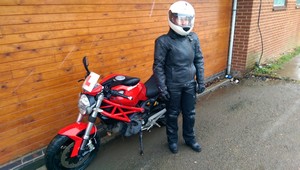 Ultra low ducati 696 and shorter rider
This light-weight, low centre of gravity Direct Access motorcycle training motorcycle offered by 90-ONE Education almost feels like you are riding a much smaller machine (until you open the throttle).
Other motorcycle commonly used for Direct Access motorcycle training by other companies.
Suzuki SV650 165kg
Kawasaki ER6n 178kg
Yamaha Fazer 600 189kg
Suzuki Bandit 600 196kg
(N.B. weights quoted are dry weights)
Height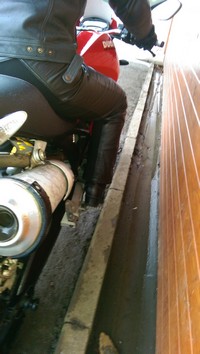 Comfortable Safety Position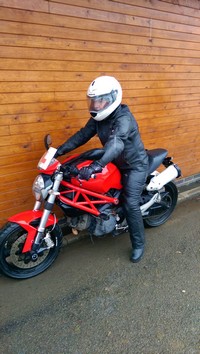 Easy riding position
Several approved modifications to our lowered Ducati 696 Direct Access training motorcycle has many advantages. Enabling the rider to touch the floor with more of the foot instills confidence in handling the machine. The extra feeling of control on a larger motorcycle promotes quicker learning.
Front suspension lowered
The additional safety benefits are pretty obvious. Concerns over the road camber when stopping are reduced. Overall, training and testing on this modified 696 becomes a joyful and fun experience by reducing the "fear factor" of larger motorcycles. The 90-ONE Education modified Ducati 696
seat height
is just
730mm
, and seems even lower with the extra narrow seat. The seat height is actually 10mm lower than the Yamaha SR125's we use for shorter candidate completing their
Compulsory Basic Training (CBT)
course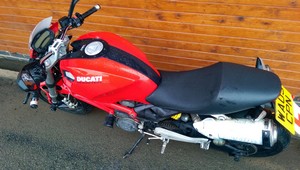 Results Low easy DAS bike
Motorcycle commonly used for Direct Access motorcycle training by other companies
Suzuki SV650 805mm
Kawasaki ER6n 805mm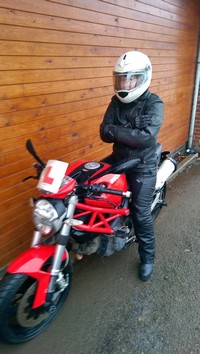 Easy riding position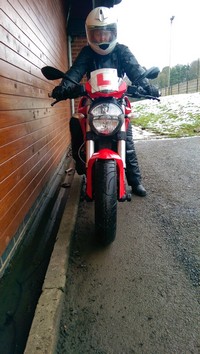 Super stable low ride
Yamaha Fazer 600 790mm
Suzuki Bandit 600 805mm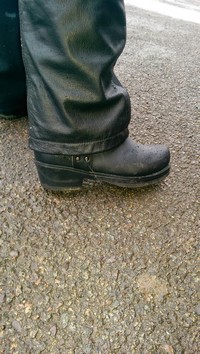 Cheat 5mm sole extensions
Try it
With the CBT completed, you may be wondering if you can handle a bigger bike. Well why not come along and find out with our FREE Introduction to Big Bikes? This is the starting point for all DAS training with 90-ONE Education. This one hour course is FREE when you book Direct Access Training with 90-ONE Education.
More information
For more information on taking your full motorcycle test and getting a full motorcycle licence to ride larger motorcycles in the UK, europe and beyond, please have a look at our
Direct Access Scheme (A and A2)
page.
Direct Access Scheme for Women
So the modified ducati monster is not only very low and light, but it makes an ideal learning machine for women riders. OK we'll confess. The lady rider used in the majority of these photo's is just 5 feet one inch tall. Yes our modified Ducati 696 is a perfect fit as you can see. However she has had her boots raised by 5mm. The extra little bit of sole added by a local cobblers is a bonus.