90-ONE Education
90-ONE Education was established in 2002 with the aim of providing Motor Vehicle Studies courses for students from schools, colleges and other educational establishments. Since that time it has developed a range of complementary activities based around this core provision. These all serve to support the company's major objective which is to promote the safe, enjoyable and legal use of motor vehicles by young people through education and training.
About forty years ago the company's founder - Trevor Lord – arrived at a kart race meeting in Hertfordshire with his kart proudly showing the number 9. When signing-on, however, it was pointed out to him that this number was the preserve of a rather more famous driver – not that the young Lord was in any way famous himself – and he was politely asked to put another number on his kart. The digit 1 could easily be added using a strip of plastic insulation tape, 19 was already in use by another competitor, so it had to be 91. From that day to this every machine he has raced has displayed the number 91.
Car racing followed his karting career and then onto two wheels racing Suzuki powered Tigcraft motorcycles. When competing in the 1998 European Supermono Championship the organisers required a team name for the programme. To accommodate this request it was decided to feature the number 91 and the team became 90-ONE Racing.
Alongside the motorsport career was an academic one with Trevor gaining an Economics degree from the University of Essex, a Masters in Industrial Archaeology from Birmingham University and qualifying as a Maths teacher. The academic and motorsport interests were combined in 1988 when he took up the post of Education Officer at the National Motor Museum in Beaulieu. It was there that he started to develop courses for young people to prepare them for driving and riding on the road. He continued with these courses after moving to the Heritage Motor Centre as Academic Services Manager and received a Prince Michael of Kent Road Safety Award in 1993 for his work in this field.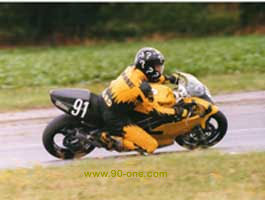 Trevor left the Heritage Motor Centre in 2003 to set up his own education company which he called – unsurprisingly – 90-ONE Education. Central to the activities of this new company was the teaching of GCSE Motor Vehicle and Road User Studies. His efforts to promote the safe use of motorcycles by young people, through the teaching of this GCSE and various other initiatives, brought him another Prince Michael award within a year of the company's formation. The teaching programme continues to deliver a range of qualifications to over 200 students a year.
The next major step in the company's development was the establishment of a Driving Standards Agency approved motorcycle rider training school in 2004. From a rather low-key start, with just a couple of bikes and one or two part-time instructors, 90-ONE Rider Education now operates every day of the week at a number of sites throughout the Midlands with a fleet of more than twenty bikes and a team of full and part-time instructors. The training school also provides developed and implemented Rider Improvement courses on behalf of a number of councils The original
Take Control
project has now been expanded and enhanced within the brand name of
CAT-ONE
. We also run
CBT
training and the machine maintenance and administration for Warwickshire's
Wheels to Work
programme.